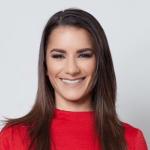 Liza Castillo is an architect with focus on mobility and urban design. She has more than 7 years
of experience working in the transport and urban mobility industry within the private and public
sector and as a civil society activist.
Her professional development has allowed her to work in different areas of the urban system,
private sector, public and organized civil society.Between 2014 and 2018, she was Vice Minister
of Transport and Road Safety in the government team of the Solís Rivera Administration, where
she led the process of modernization of public transport, negotiations with the public-private
sectors, the consolidation of the project: ´Fast Passenger Train', the national agreement for the
National Electronic Payment System and the plan for Pacification of public roads.
She was President of the Road Safety Council (COSEVI) in Costa Rica and a member of the
Central American Commission of Maritime Transport (COCATRAM).
She is an active contributor to the City and Territory Laboratory (LACITE) of the University of
Costa Rica and the Latin American Association of Urban Planners (ALPU).
Liza is also co-founder of the Women in Motion Network (womeninmotion) initiative that
promotes gender equity and the impulse of emerging leaders in the transport and mobility
industry.
Since 2019, she works as a Consultant to the Minister of Public Works and Transportation.
Within the private spectrum, Liza has been in charge of the planning and design of operational
proposals for the reorganization of public transport bus mode through intermodality and mobility
as a service and the paradigm shift: towards more human cities.
She has encouraged local authorities, public institutions and professional associations to
analyze and generate spaces for discussion on the theme of mobility and sustainable cities. She
is a certified yoga teacher and currently serves as an advisor to the Minister of Public Works
and Transportation.